I'm not a fan of musicals, but if Christopher Wheeldon decides to direct one, I WILL get on the Eurostar to Paris to see it.
An American in Paris is Wheeldon's first foray into the realm of musicals.
The plot is based on the 1951 musical film, but the choreography is new. Wheeldon cast two ballet dancers (Leanne Cope, first artist of the Royal Ballet, and Robert Fairchild, principle dancer at New York City Ballet) in the lead roles.
The strength of this musical was always going to be in the ballet. In fact, the other elements are on the weak side. The plot is a standard love triangle set in post WW2 Paris. There's light humour and a gentle attempt at a deeper message about personal courage. The singing is so-so. The fake French accents are atrocious. (However, the fact that two ballet dancers, on top of being immensely talented dancers, can sing and act at all is pretty impressive.)
But the ballet element is beautiful. My favourite scene is when Lise auditions to be part of a ballet. She stands at the back of the room, performing the same steps as the other dancers, but gradually makes small changes until the steps are completely her own, and the audience is left without a doubt that she is a very special dancer. Her style is reminiscent of the Diaghilev era. In fact, the whole musical has a very stylish art deco feel to it.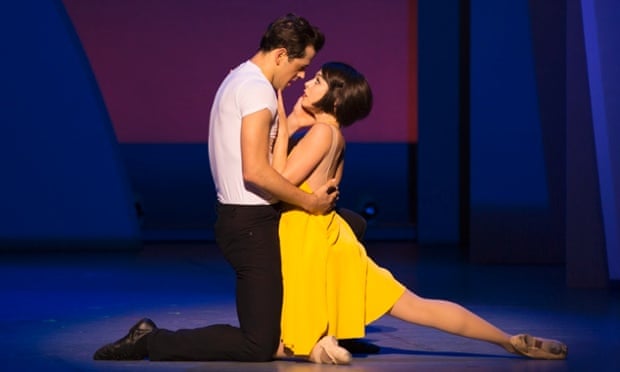 Another great scene is the ballet within the ballet. In a feat of clever stage design, the backdrop - a red velvet curtain identical to the house curtain - opens to reveal conductor and audience within the ballet. We watch the audience watch the ballet.
The ballet within the ballet is Wheeldon doing what he does best. Personally, I would prefer if Wheeldon would stick to pure ballet - not because this musical wasn't good, but because Wheeldon is too good at making ballets to not make them! However, I'm guessing the people of Paris, who received An American in Paris with standing ovations, will not agree with me.